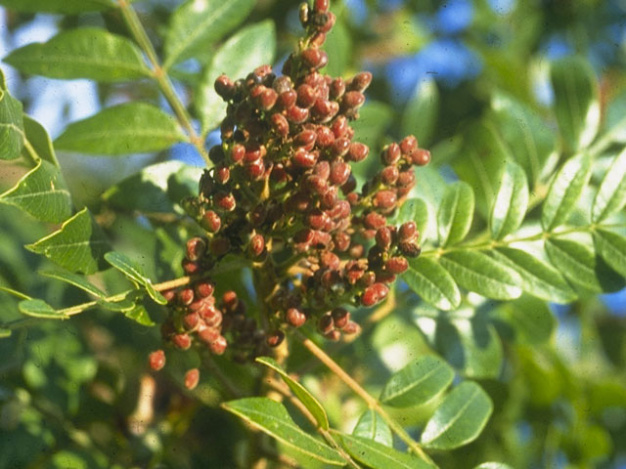 Common Name: Shining Sumac, Winged Sumac, Dwarf Sumac
Full to part sun; medium to dry moisture level; prefers fertile upland sites but tolerates a wide range of soils; prefers acidic pH.
7-15 feet height by 10-20 feet spread; blooms in summer; greenish yellow flowers; forms clusters of red, hairy fruits that mature later in fall.
Growth Rate: Fast by root suckers but colonies appear to lose vigor in about 15 years.
Maintenance: Generally pest and disease free
Propagation: Easy by division of colony. Difficult by seed which has a poor germination rate. Scarify seed for 30 minutes by soaking in concentrated sulfuric acid.
Native Region: Statewide
Very ornamental sumac with a large spreading habit. Leaves turn a brilliant red in fall. Has both male and female flowers, usually on separate plants. Only female flowers produce fruit. Colonies are frequently single-sexed because they are formed from a single suckering parent. In full sun, it is usually wider than tall. Occurs naturally in dry woods, clearings, on fencerows, cliffs and old fields. Not suitable for small areas. Attracts birds and bees.