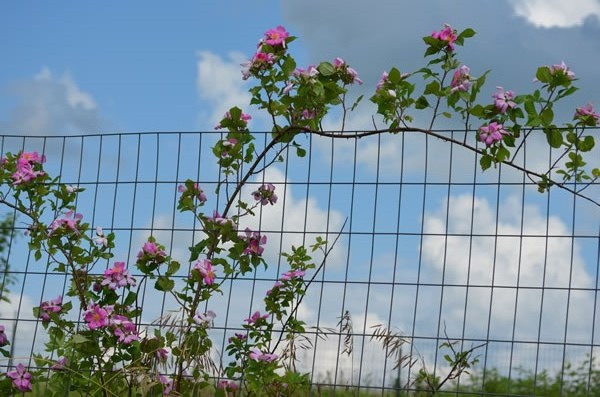 Common Name: Prairie Rose, Illinois Rose, Climbing Prairie Rose
Full to part sun; medium to moderately dry moisture level; grows in thin soils over bedrock, sandy or gravelly loams, and silt loams; slightly acid to slightly alkaline pH.
4-8 feet height by 5-10 feet spread; blooms in July; pale to deep pink flowers; small greenish brown to red hips in early September and persisting through late March.
Growth Rate: Very fast; rambling canes may grow 15 feet in one season.
Maintenance: Occasional disease and insect problems
Propagation: Seed germination code C(60). Moderately easy from seed and moderately difficult from cuttings.
Native Region: Statewide, especially in the Central Basin and Valley and Ridge provinces
This deciduous, thornless rose is the closest we get to a native climbing rose. It sends out long, weak canes that can be trained on fences or trellises. It flowers prolifically, and the mix of lighter and darker pink flowers has a striking multi-color appearance. Both the slightly perfumed flowers and rose hips are edible for humans. One of the latest flowering rose species in summer. Good choice for erosion control planting but not for the small garden. Intermediate wildlife value. Many birds relish the showy red fruit; attracts bees.