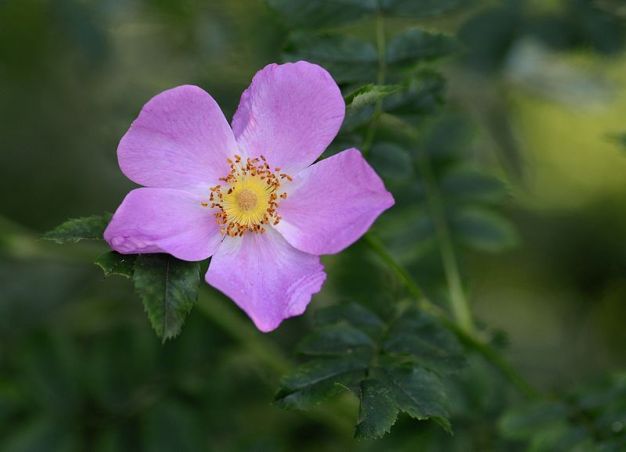 Common Name: Virginia Rose, Pasture Rose, Wild Rose
Full to part sun; medium moisture level; tolerates a range of soils including sandy and heavy clay soil; prefers acidic to circumneutral pH.
4-6 feet height by 6-8 feet spread; blooms in summer; pink flowers; rose hips mature in fall.
Growth Rate: Fast. Suckers.
Maintenance: Easy to grow. Subject to blackspot, powdery mildew, aphids, thrips, and mites. Prune at the end of winter.
Propagation: Difficult by seed which often requires 1-2 years to germinate. Seed germination code C(150) at 27-32 degrees C. if seed is scarified.
Native Region: Only occurs in 4 counties: Montgomery, Sumner, Maury, and Unicoi
Designated a "Special Concern Species" in Tennessee. Attractive, ornamental, deciduous shrub with an upright shape. Has both dainty, fragrant flowers and excellent yellow, purple and red fall color in its leaves. Stems have scattered stout, curved thorns. Not suitable for small gardens because roots grow rapidly underground and can strangle other planted flowers. Can tolerate full shade but may not bloom as well. Attracts birds and bees. Cultivars available.