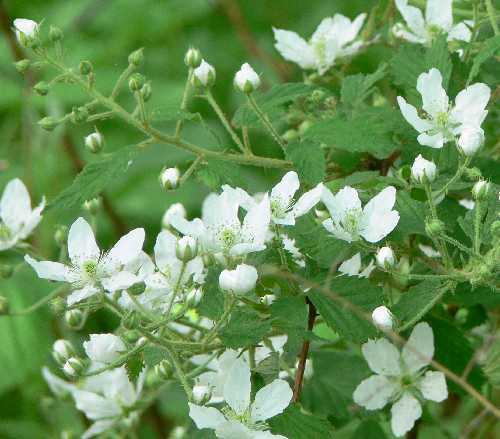 Common Name: Blackcap Raspberry, Tall Blackberry, Black Raspberry
Full to part sun; medium to moderately dry moisture level; grows in gravelly or sandy loams to moderately fine silt loams, sandy clay loams and clay loam; strongly acid to slightly acid pH.
3-6 feet height by 6-12 feet spread; blooms May and June; white flowers; spherical raspberry fruits start out red and then turn black.
Growth Rate: Fast. Freely suckers to form mounded colonies.
Maintenance: Occasional disease problems and infrequent insect problems. Needs occasional pruning to remove dead canes, or as an alternative a person can mow the patch to the ground every 5 years and skip one season of fruits.
Native Region: Scattered statewide, although absent in southwest Tennessee
Deciduous shrub that produces tasty fruit. Fruit comes off the stem with a hollow center, which gives its common name of "Blackcap." Armed with prickles. Will not set fruit with too much shade. Fruit may not develop properly without adequate rain. Very high wildlife value; berries are relished by birds. Also attracts bees.