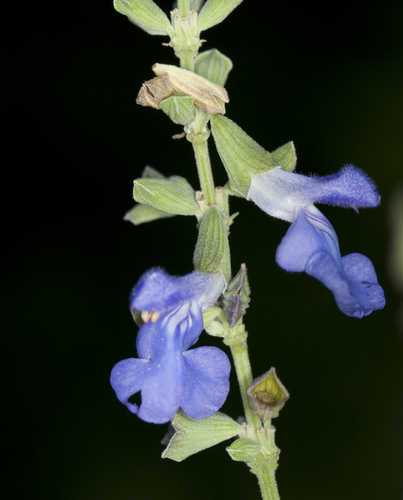 Common Name: Blue Sage, Giant Blue Sage, Pitcher Sage, Azure Blue Sage
Full to part sun; medium to dry moisture level; tolerates a range of soils including sandy, sandy loam, medium loam, clay loam, clay and rocky; tolerates a high pH.  3-5 feet tall (up to 6 feet), blue flowers, blooms in summer.
Germination Code:  A.  Easy from seed
Native Region: Limited to the western edge of the Highland Rim and occurs in 5 counties – Henry, Stewart, Decatur, Perry and Hardin.
Designated a "Special Concern" plant in Tennessee.  Clump-forming perennial with whorled spikes of large, two-lipped blue flowers.  A reliable performer coming up year after year.   Prefers gravely or sandy soils with good drainage and will bloom throughout the summer into fall with regular moisture.  Drought-tolerant.  Easy to grow with few disease problems.  Cut back to half its height in late spring to promote a more compact plant and to prevent stem from flopping.  Too much water and too little sun will lead to a spindly, flopping plant.  Deer avoid it.  Native to prairies, meadows, pastures, savannahs, and woodland edges and openings.  A variety of subspecies of this plant exist in the United States, but the Tennessee Herbarium only lists Salvia azurea var. grandiflora as occurring in Tennessee.  Other references list Salvia azurea var. azurea as native to the southeastern U.S.
Attracts butterflies and is of special value to native bees and bumblebees.