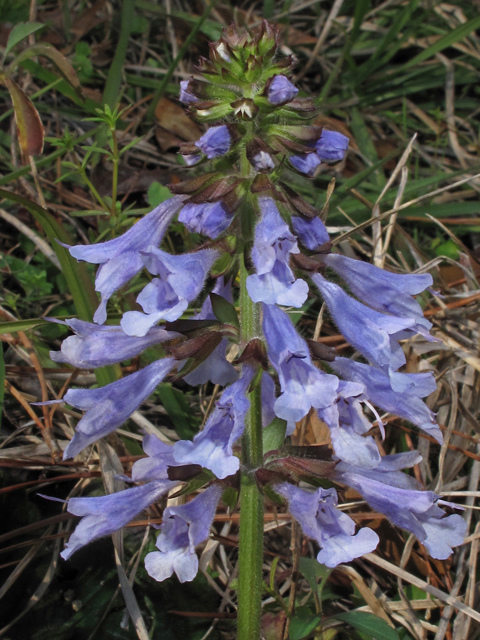 Common Name:  Lyre-Leaved Sage, Cancer Weed
Full sun to full shade; moderately wet to dry moisture level; tolerant of a wide range of soils including loamy, sandy, rocky and clay; very strongly acid to neutral pH. 6 inches in height with a 12-18 inch foot flower spike; blue to lavender flowers; blooms between April and June and may bloom again lightly in fall. Self-sows prodigiously.
Germination Code: May require a cool, damp pre-treatment period. Sow at 70 degrees F. and seed germinates in 7-14 days. Can also propagate by division, separating clumps in spring or fall.
Native Region:  Statewide
A very adaptable, attractive, evergreen plant that is widespread in the eastern United States. Wavy-edged leaves are 3-8 inches long and resemble the lyre. Crushed leaves have a minty fragrance. Plant has showy flowers and the typical square stem and two-lipped blossom of the mints. Makes a good groundcover that can take mowing and being walked on. Tolerates periodic flooding, overwatering and drought. Hummingbirds, bumblebees, and some long-tongued butterflies visit blooms frequently.