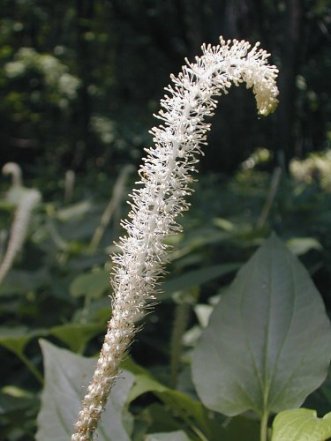 Common Name:  Lizard's Tail
Light shade, wet to medium moisture level, mucky and sandy soils, adaptable to a wide range of pH.  2-3 feet height, blooms in summer, white flowers, expands rapidly by creeping rhizomes.
Germination Code: L
Native Region: Statewide, especially in West Tennessee
Fragrant, showy flowers that are supposed to resemble lizards' tails.  Grows in roadside ditches, marshy areas or still shallow water.  Can take full sun in shallow water. Can be used to stabilize areas from erosion and will spread to form colonies.  Easy to divide. Good for man-made ponds that are too shady for other plants; give it plenty of room or keep it in a container.  Set containers in shallow water up to 6 inches deep.
Turtles sometimes feed on the leaves.  Foliage is toxic to deer who leave it alone.