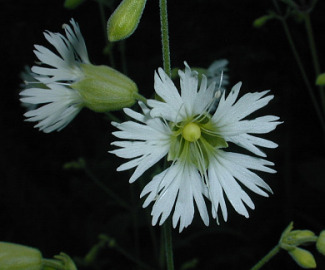 Common Name: Starry Campion, Widowsfrill
Part sun to light shade, medium to moderately dry moisture level, prefers sandy or clay loam soils, acidic pH.  2-3 feet height, blooms summer into fall, white flowers, will naturalize.
Germination Code:  C(60)
Native Region: Statewide
Short-lived plant with delicate, attractive flowers.  Flowers are open in the evenings, through the night and into the morning but close when the sun hits during the day. Tolerates some drought and even a bit rocky soil.  Excellent drainage is essential for growth.  Avoid use of fertilizer, and stems may flop over when grown in fertile soil in flower gardens.  Attracts butterflies and moths.