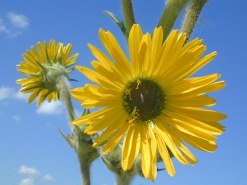 Common Name: Compass Plant 
Full sun, moderately wet to dry moisture level, prefers a deep loamy soil for its taproot but is adaptable to a wide range of soils including clay, adaptable to a range of pH.  5-9 feet height, blooms summer into fall, yellow flowers.
Germination Code: C(60)
Native Region: Only occurs in 4 counties – Haywood, Carroll, Henry and Montgomery
Designated a "Threatened Species" in Tennessee.  Easy-to-grow plant that is tall, sturdy, rough, and bristly.  Common name comes from the fact that the basal leaves usually orient themselves in a north-south direction in order to minimize intense overhead sun exposure.  Slow to establish and may not flower until second or third year.  Excellent for naturalizing.  Has a large, woody taproot that may go down 15 feet, so division is not possible.  Attracts birds, butterflies and bees.