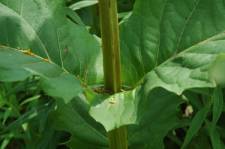 Common Name:  Cup Plant
Full to part sun, moderately wet to medium moisture level, prefers rich soil but is adapted to wide range of soils including clay, very strongly acid to neutral pH.  5-8 feet height, blooms in summer, yellow flowers, will freely self-seed in optimum conditions.
Germination Code: C(60)
Native Region: Western half of Tennessee
Coarse, sunflower-like plant.  Leaves encircle the squarish stems, forming a cup that can hold rain water, hence its common name.  Species is also sometimes called Cup Rosinweed because its stems exude a gummy sap when cut.  High drought tolerance although may drop its lower leaves during a drought.  Can be invasive with an "unstoppable urge to reproduce."  Attracts birds, butterflies, hummingbirds and bees. Goldfinches and other seed-eating birds relish the seeds and will often drink water from the cup.