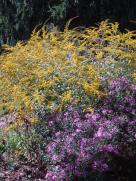 Common Name:  Rough-stemmed Goldenrod, Wrinkleleaf Goldenrod
Full to part sun, wet to moderately dry moisture level, most soils except clay, moderately acid to neutral pH.  2-5 ft. height, blooms in late summer, yellow flowers, spreads rapidly by rhizomes and slowly by re-seeding.
Germination Code: ?  Difficult from seed, poor germination rate
Native Region:  Statewide
Thin rays of arching flowering stems occur at the top of sturdy, erect stems. Occurs naturally in low woods, meadows, old fields, pine barrens and bogs. Drier soil will help keep it in check. 'Fireworks' is an attractive, popular cultivar often commercially available at local nurseries.