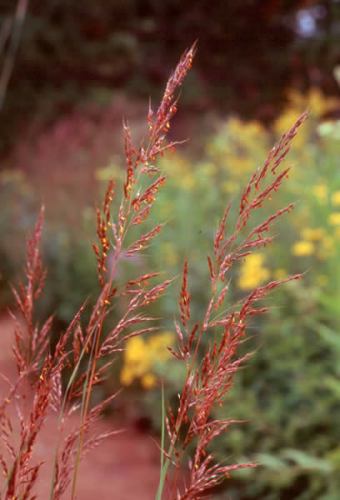 Common Name: Indian Grass
Full sun, medium to dry moisture level, tolerates a wide range of soils from sandy to clay, tolerates acid to alkaline pH.  3-7 feet height, blooms in fall, yellow flowers, will naturalize both by rhizomes and self-seeding in optimum growing conditions.
Germination Code:  A
Native Region:  Statewide
Clump-forming, warm-season bunchgrass with blue-green foliage 18-24 inches tall and plume-like bloom stalks up to 7 feet tall.  Very attractive with rich gold-and-purple sprays of flowers and seeds in fall. This species was a major grass of the tallgrass prairies of the central and eastern U.S.  Tolerates both poorly and well-drained soils.  Tends to open up and flop on moist, rich soil.  Needs tall companions to help it remain upright.  Attracts birds and butterflies.