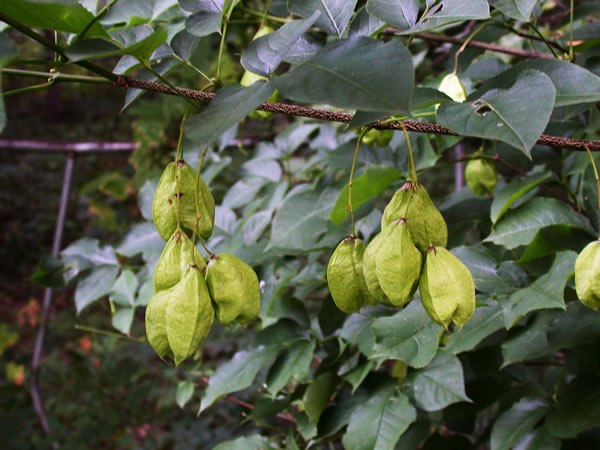 Common Name: American Bladdernut
Part to full shade; moderately wet to moderately dry moisture level; prefers a fertile loam but tolerates a wide range of soils including moderately coarse sandy or gravelly loams and clays; neutral to slightly alkaline pH.
10-15 feet height by 10-20 feet spread; blooms in May, greenish white to creamy white flowers; fruits are smooth, 3-lobed, papery, pale green to light brown, bladder-like capsules, 1 1/3 to 3 inches long, profusely produced in late summer.
Growth Rate: Medium to fast
Maintenance: Insect and disease resistant. Easy to grow and low maintenance.
Propagation: Seed germination code F. Seeds have a double dormancy; do not allow seed to dry out before stratifying 3 months warm and 3 months at 40 degrees F. Cuttings root easily.
Open, deciduous large shrub to small tree with stout, stiff upright, spreading branches. Smooth, striped bark and showy flowers and fruit. Drooping clusters of cream colored, bell-shaped flowers. Most curious feature is its inflated, balloon-like fruit. Occurs naturally in moist, deep woods, thickets and floodplain woods. Tolerates heavy shade. Establishes dense colonies in the wild. Attracts butterflies and bees.