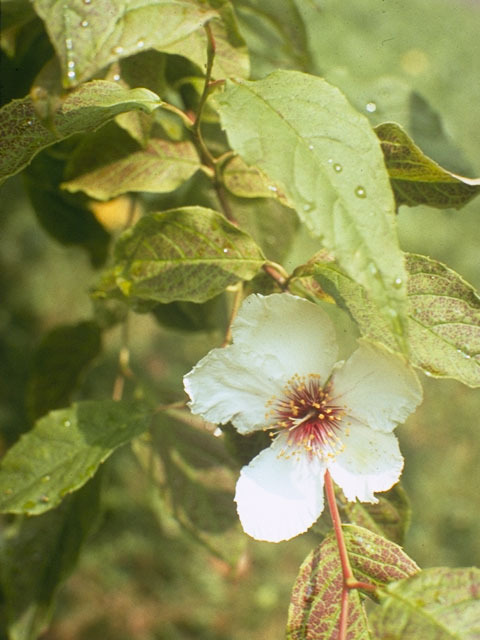 Common Name: Mountain Camellia, Mountain Stewartia
Part sun; medium moisture level; prefers rich loamy soil but also grows in moderately coarse rocky or sandy loams, moderately fine sandy loams and silt loams but will not tolerate clay; strongly acid to moderately acid pH.
8-16 feet height by 6-14 feet spread; blooms in late spring; white flowers with numerous purple stamens; fruits are woolly, sharply 5-angled woody capsules in September.
Growth Rate: Slow
Maintenance: Low maintenance and basically pest free. Can be pruned to a single-trunked tree or allowed to grow freely into a mounded shrub. Lightly fertilize in spring. Seldom requires pruning.
Propagation: Difficult from cuttings and seed
Native Region: Concentrated in Ridge and Valley and in Blue Ridge provinces
A deciduous large shrub or small tree that is related to camellias. Has huge, exotic, solitary flowers with crimped, scalloped edges. Orange to scarlet red foliage in fall. A garden aristocrat that needs to be sited where its blooms can be appreciated. Needs some sun and needs some protection from strong winds and the worst heat of the day. Leaf scorch may occur in full sun in hot summer climates. Root rot can be a problem in clay soils. Very difficult to transplant. Very low wildlife use. Cultivars available.