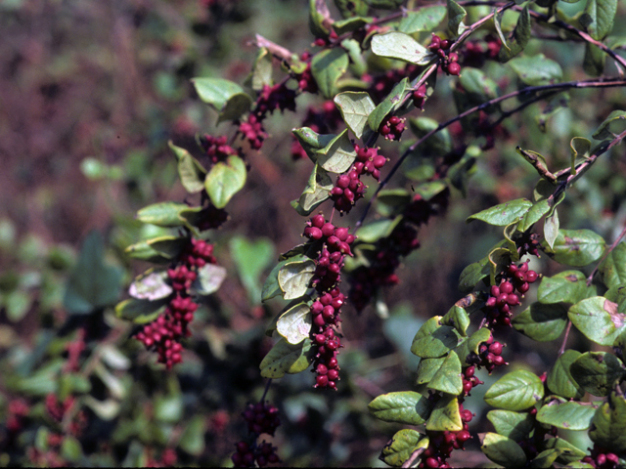 Common Name: Coralberry, Indian Currant
Full to part sun; medium to dry moisture level; grows in infertile sands, sandy or gravelly loams, silt loams and clays; tolerant of a wide range of pH, from moderately acid to slightly alkaline pH.
2-5 feet height by 4-8 feet spread; blooms in June and July; greenish white to pink flowers; coral red to purplish globular berries, 1/6 – 1/8 inch across, in October and persisting into late winter.
Growth Rate: Fast. Freely suckers into broad colonies.
Maintenance: Easy to grow. Periodic pruning stimulates fruiting. Occasional disease and insect problems.
Propagation: Easy from cuttings; moderately difficult from seed due to slow germination.
Native Region: Middle and East Tennessee, West Tennessee uplands
A deciduous shrub with a spreading, arching habit. Forms a dense mound with numerous slender, erect to arching, little-branched stems. Exfoliating bark with small short flakes or long, thin gray strips. Flowers not showy. Berries persist through winter, adding excellent color and interest to the winter landscape. Occurs naturally in dry rocky outcrops, old fields and woodland edges. High wildlife value. Fruits remain on naked canes for quite a while and are eventually eaten by birds. Cultivars available.