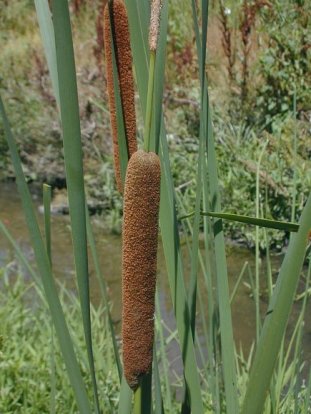 Common Name:  Narrow-leafed Cattail 
Full to part sun, wet to moderately wet moisture level, adapted to a wide range of soils including clay, very strongly acid to moderately alkaline pH.  3-6 feet height, blooms in early summer, brown flowers, spreads by creeping rootstocks and by self-seeding.
Germination Code: A.   Plant in 3 cm. of water.
Native Region: Scattered very lightly statewide
This plant is a wetland plant in Tennessee and is best suited to ponds and contained in large pots that will need division every year.  Not as aggressive a spreader as common cattail.